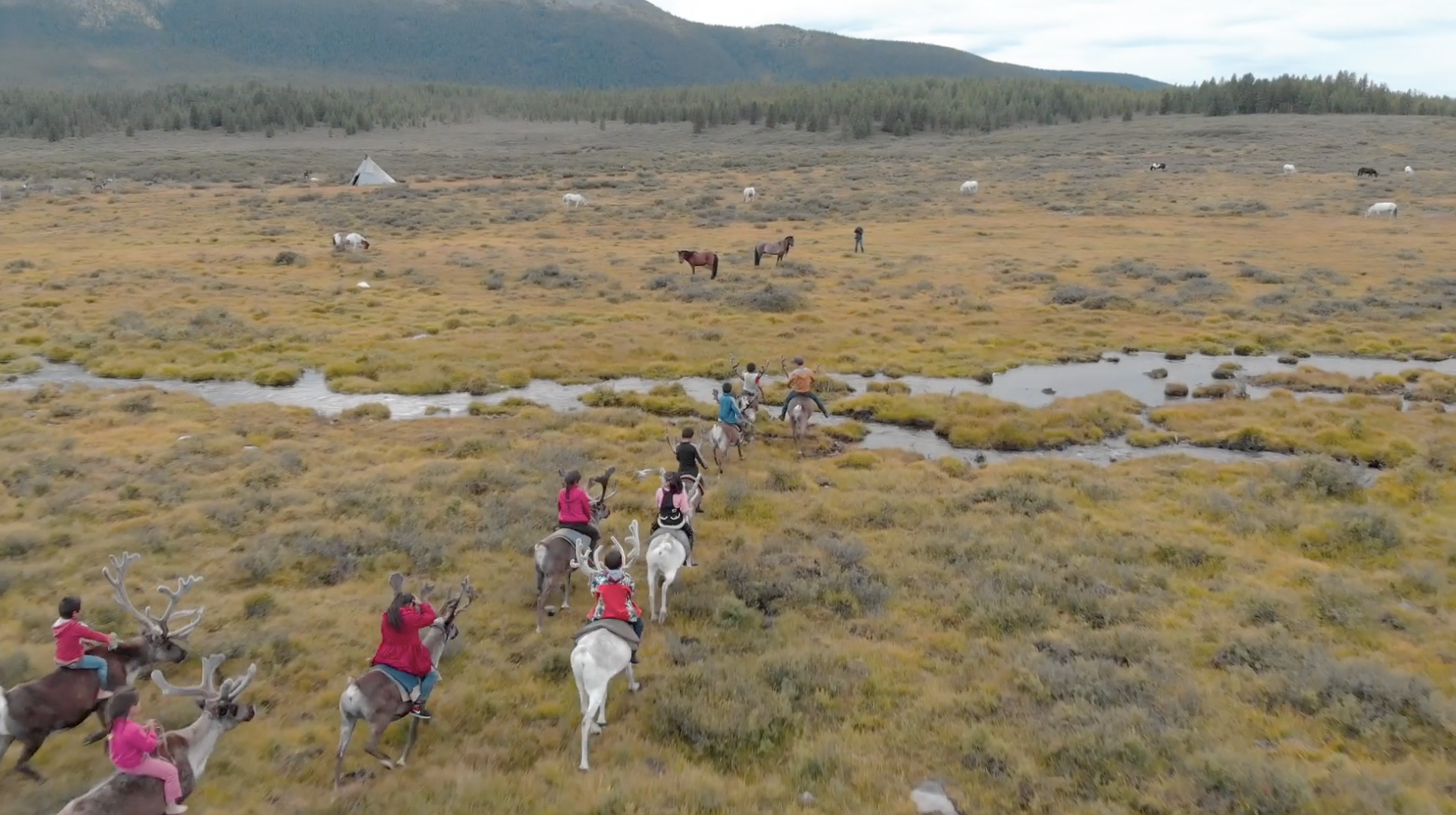 A story of remembering OUR ANCIENT CONNECTIONS
A group of women, led by a Kontomble Voice Diviner, pilgrimage into Northern Mongolia to heal the wounds created by modernity's disconnection from our ancestors and our ancient relationship with the Little People of the Earth.
As they journey deeper, they learn that the pain humanity carries today has a direct relationship with a deeper trauma that hasn't been resolved. As lands were being conquered, lust and greed created systematic oppression which divided the people's ancient connection to the land, the elemental Beings, and ourselves.
Following the messages from the Kontomble, the pilgrimage begins to seam together how living in reciprocity, honouring the Little People of the Earth, and harnessing our creativity are guiding lights for healing our collective wounds.
Woven together by interviews and dreamlike vignettes, it's a story of grief in being lost and forgotten, and how by remembering our sacred relationship with the Little People, we truly can heal the world.
Official Selection Finalist
London Lift-Off Online Film Festival 2018
Official Selection Finalist
Garifuna International Indigenous Film Festival 2019
TOKYO, JAPAN
May 18-19, 2019 - $75 USD
elemental reverence Film Screening and Ceremonial Gathering

VENICE, CALIFORNIA, USA
May 25, 2019
Garifuna International Indigenous Film Festival

ASHEVILLE, NORTH CAROLINA, USA
June 9, 2019 - $13 USD
Film Screening and Q+A with Liv Mokai Wheeler

BELGRADE, SERBIA
July 20, 2019 - $11 USD
Film Screening and Q+A with Liv Mokai Wheeler
The Remembering Film Tour - TOKYO
I came out from the ceremony with full of love and hope in my heart. It took so long to turn my eyes back to the country that I was born and raised. At one point, I was pretty hopeless at the future of Japan and shamed being Japanese. And then I connected with my soul family, who truly willing to honor Japan and the Earth, through the ceremony. I can see the beauty of the country and its culture again. Is there anything more precious than this?
- KYOKO KATO, CHINESE MEDICINE STUDENT
Reviews for The Remembering
Just WOW on so many levels. This film was brilliant in it's elegant, reverent, moving imagery, and words about being in right relationship with each other and the Earth. I wept. I absolutely loved it. Thank you for creating this.
- Erin Telford
This was and is such beautiful medicine! My heart was full and beating the entire time. To witness parts of ceremony is humbling and it truly felt like I was there. Remembering. Such honour. I have shed many tears to feel what is truly meaningful. Thank you Liv, thank you Kontomble, thank you all who participated. This is it!!
- Taylor Britt
I just watched The Remembering! My heart is so moved … by your work, by the experience of the pilgrimage, the shamans, and the message. Thank you for sharing this with the world (and me). Blessings.
- Leanne Turpin
Liv Wheeler is a Kontomble Voice Diviner, a voice for the "Little People," and international ritual facilitator. She trained and apprenticed for 8 years with Malidoma Some (author, PhD, West African Shaman) and made many pilgrimages to Burkina Faso. During that time, she met with the medicine people and also reconnected with the Little People known as the Kontomble.
Liv's practice has been working with people individually as well as facilitating healing in community for 14 years. Her work has brought her both into national and the international communities where she facilitates group divination rituals. She tours the world facilitating ritual reminding people of their true nature, which is deeper than our modern selves would have us believe.
The calling from Mongolia came to Liv during several deep ayahuasca ceremonies, then continued to increase as time passed. Following the cues of Spirit, and through a synchronistic connection with the cinematographer, Emmy Wu, this film was born.
This film is the story of our ancestral connection with the Little People and to Mother Earth. In remembering where we came from, may we find our way again.
In "With The Love of The Ancients", Liv Wheeler shares her very real and wonder-filled story of discovering these spirits, these little people, the Kontomble, and the cross-country and then global journey of ritual and community healing they have charted for her, as their chosen emissary, voice and vision-carrier in these unique and critical times.
The Kontomble are ready to speak and reenter the public, mainstream consciousness, and this book is their joyous and powerful hug and hello, their long-awaited, laughter and tear-filled, long-time-no-see.
We believe in amplifying the voices of indigenous peoples with the aim of strengthening their communities and protecting their native lands. If you're interested in getting involved, or have an inquiry about sponsorship or distribution for the feature film, please connect with us!